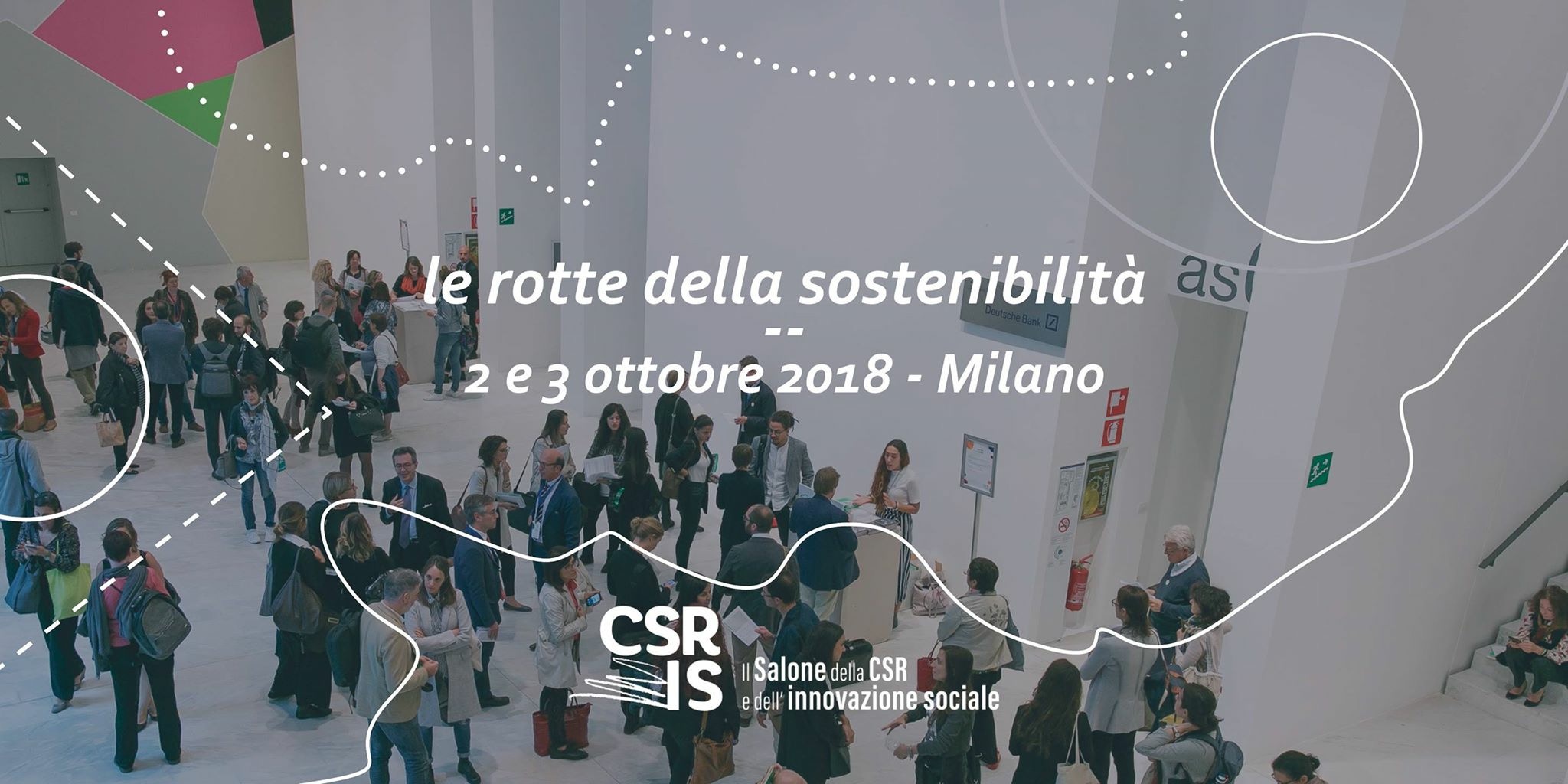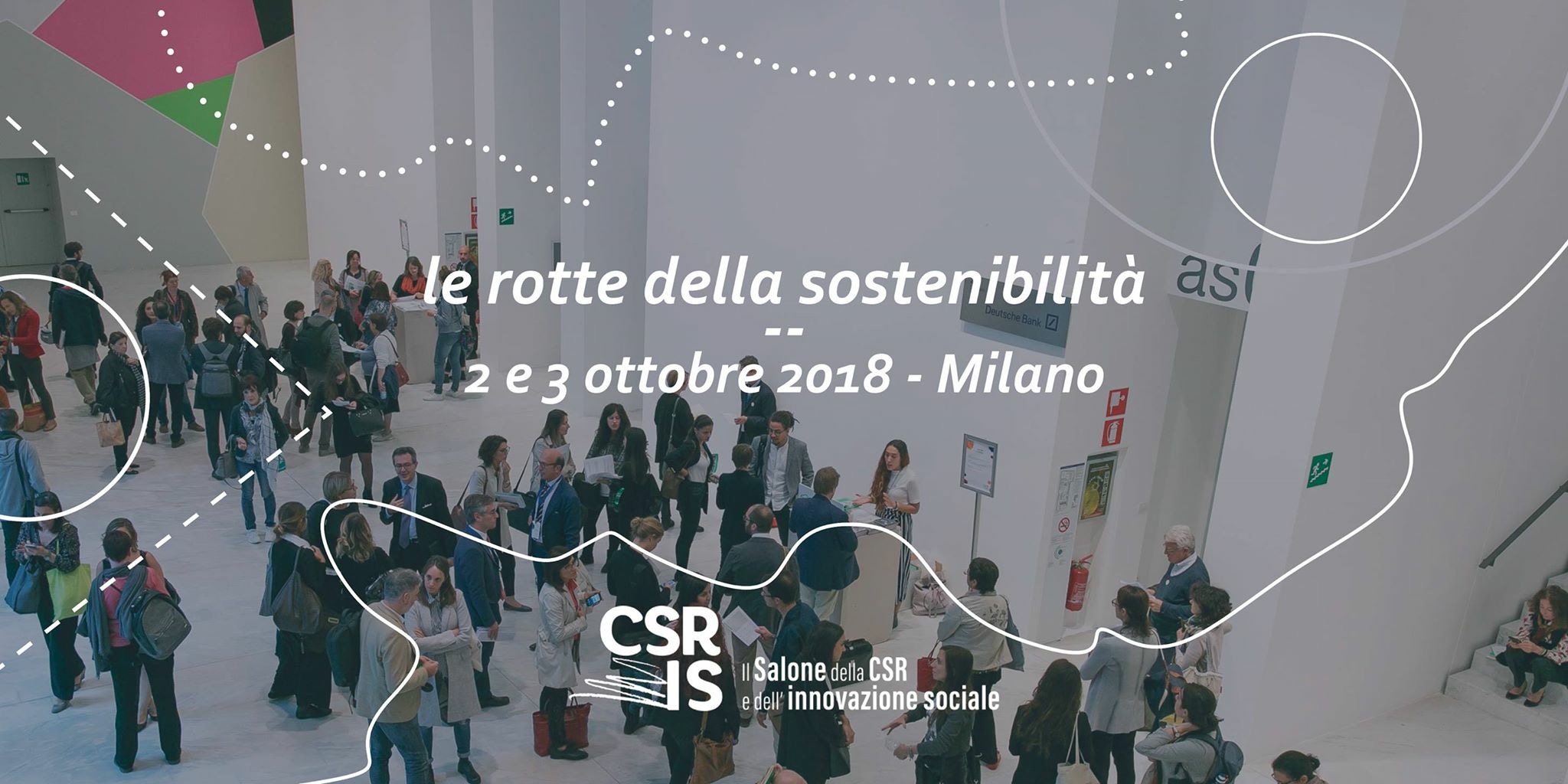 Next Tuesday Oct. 2nd and Wednesday Oct. 3rd one of the major events for all the companies an ethical and responsible path towards the environment and the people will be hosted at Università Bocconi in Milan: the CSR and social Innovation Fair. Nowadays Corporate Social Responsibility has become a strategic asset for companied to determine the consumers' choices: 65% of Italians, namely, shares the values of sustainability. This makes the CSR Fair a do-not-miss opportunity. "The routes of sustainability" is the red thread of all meetings held during the two-days manifestation in Milan: this will bring together 300 members and speakers belonging to 185 organizations accounting for over 80 events. Six paths will be followed: from Circular Economics to Diversity and Inclusion, from Responsible Finance to sustainable Supply-chains and processes, from Smart Community & Smart City to innovation & change.
We will be involved in person in some of the programmed events: "the non-financial Statement of Account, between actuality and future sceneries", scheduled on Tuesday October 2nd at 4 p.m.The meeting will also serve the scope to analyse the role of NFS. Some companies, in fact, consider it a natural evolution of the corporate statement of balance, some others regard it as a duty, transforming corporate statements of balance in a mere formal procedure. The meeting, with participation of Andrea Ragazzini, Chief Value Officer of Stafer, will clarify such aspects.
Sitting at the desk next to him also Marco Arciglio (American Express), Pier Mario Barzaghi (KPMG), Alessandro Dalpiaz (APOT), Giulia Genuardi (Enel), Elena Liverta (Saipem), Giovanni Martoccia (SGS Italia), Liana Mazzarella (Banco BPM), Claudio Pirani (ERG) e Luca Testoni (ETicaNews).
Participating in the speech also Sara Cirone, Founder of Sara Cirone Group SRL Benefit Corporation, who will always participate in the meeting: "Benefit Corporations and the value of transparency", programmed on Wednesday October 3rd, at 09.30 a.m. Scope of the meeting is namely such new typology of corporation, which has been introduced in Italy by the Law 208 on Dec. 28th 2015, and is characterized by a binding statutory commitment to reach economic targets in favour of the stakeholders, but also in producing wider outreach towards society in terms of common benefit. The deep value marking such benefit identity is the value of transparency, which expresses itself in the wish to make an open account on what is being done, and the drawbacks produced through the corporate activity: a target obtained through the construction of a yearly statement of account which concerns the common benefit. Alongside Sara Cirone, the following speakers will bring contributions: Isabella Cristina (Mixura), Dario De Rossi (NATIVA srl SB), Stella Gubelli (ALTIS), Marco Petrassi (Studio SZA) and  Giacomo Stefanini (Wami).